Abstract
In this paper, we introduce the joint project of the Museo Egizio (Turin), the University of Basel, and the University of Liège entitled "Crossing Boundaries: Understanding Complex Scribal Practices in Ancient Egypt", and provide a progress report for 2019. The project deals with Ramesside hieratic papyri of the Turin collection that stem from Deir el-Medina (c. 1350–1050 BCE), adopting a contextualised approach to this written material. Crossing the boundaries between disciplines, we aim to shed light on the life of a particular category of complex documents, labelled "heterogeneous" papyri, i.e., papyri combining on a single support texts (or drawings) belonging to different genres.
ملخص البحث:
في هذا النص، نقدم المشروع المشترك بين المتحف المصري (تورينو)، وجامعة بازل، وجامعة لييج بعنوان "تخطي الحدود: فهم طرق الكتابة المعقدة في مصر القديمة"، وتقديم تقرير لفترة عام 2019. يعمل المشروع على البردية الهيراطيقية لرمسيس المحفوظة ضمن مجموعة تورينو والتي تعود إلى دير المدينة (حوالي 1350 – 1050 قبل الميلاد)، ويتبنى منهجاً محدداً لهذا النص المكتوب. على وجه الخصوص، إزالة الحدود بين التخصصات المختلفة، نهدف إلى تسليط الضوء على حياة فئة معينة من الوثائق المعقدة، والتي تحمل علامات البرديات "غير المتجانسة"، أي البردية التي تحتوي على نصوص (أو رسومات) ذات طابع مختلف أو طبيعة مختلفة.
---
1. Introduction
Many aspects of ancient Egyptian scribal culture are still poorly understood. Earlier research mostly focused on the contents of texts in order to reconstruct literary compositions, explain historical events, or describe administrative and judicial customs. In trying to overcome traditional epistemological and methodological divides between disciplines such as archaeology, papyrology, palaeography, prosopography, and textual scholarship, the project "Crossing Boundaries"1 adopts an interdisciplinary approach to written material. We are interested in the scribal practices of the individual agents who produced texts and in the life history of a particular category of complex documents, which we have labelled "heterogeneous"; papyri, that is, on each of which are assembled texts or drawings ascribable to different genres, such as accounts, poems, hymns and letters. This category of papyri has never been studied as a coherent whole; rather, individual papyri have been used as convenient quarries for collecting additional witnesses of literary texts or specific pieces of information for thematic studies. They are, however, of primary importance for the study of the competence and performance of ancient scribes, both synchronically and diachronically.
"Crossing Boundaries" targets the rich papyrological material that stems from the village of Deir el-Medina, which housed the families of the workmen who built the royal tombs in the Valley of the Kings and the Valley of the Queens during the New Kingdom (c. 1350–1050 BCE). This highly literate community produced an unparalleled quantity of texts and inscriptions, and is undoubtedly the best laboratory2 to observe scribes at work in ancient Egypt. Building on existing collaborations between the Museo Egizio (Turin) – which holds the most important collection of papyri from this site2 –, the University of Basel, and the University of Liège, the five main goals of this research project are to (1) identify and document the fragments of papyri in the Turin collection; (2) join these fragments and provide a digital reconstruction of the original documents; (3) study the variety of texts attested on each papyrus, assess the number of scribal hands, and suggest individual scenarios and generalisations concerning the history of these documents; (4) enrich the results with data coming from other ancient Egyptian archives of "heterogeneous" papyri from Deir el-Medina; (5) broaden the perspective by comparing, quantitatively and qualitatively, the data from Deir el-Medina with complex scribal practices of other periods and places in ancient Egypt.
2. Project description
In this section, we provide background information about contextualised approaches to writing in the community of Deir el-Medina (§2.1.) and to the Ramesside papyrological material from the Museo Egizio (§2.2.). This allows us to frame our research project on "heterogeneous" papyri (§2.3.) more precisely, and to detail our research plan (§2.4.).
3. Progress report – 2019
The project "Crossing Boundaries" officially began on 1 March 2019. In this section, we introduce the team and general organisation of the project (§3.1.), present ongoing work and research questions that have been tackled during the first year of the project (§3.2.), and summarise dissemination activities carried out in 2019 (§3.3.).
3.1. Team and internal meetings
The recruitment procedure was conducted over the course of 2019. The main team consists of seven scholars working under the supervision of three principal investigators: Christian Greco (Turin), Antonio Loprieno (Basel), and Stéphane Polis (Liège). At the Museo Egizio, Susanne Töpfer organises the documentation, digitisation and encoding of the papyri in TPOP, which is carried out once the fragments have been consolidated and restored by an external restorer financed by the project. The Basel team consists of two post-doctoral researchers (Kathrin Gabler and Matthias Müller), two PhD candidates (Egyptologist Elena Hertel and Egyptologist/ computer scientist Stephan Unter), and two student assistants (Evelyne Marty and Klaudija Stanic). In Liège, the team consists of two post-doctoral positions (Nathalie Sojic and Renaud Pietri), and three student assistants (Marie Dransart, Daphné Nuyts, and Philipp Seyr). In addition to the project members, several collaborators of the Museo Egizio are working on papyrological material related to the project: Micòl Di Teodoro (post-doctoral researcher), Andrea Fanciulli (PhD candidate), and Martina Landrino (PhD candidate). Finally, Serge Rosmorduc (Paris) collaborates with the project for the IT aspects involving hieroglyphic transcriptions and transliteration. A description of the individual curricula and projects can be found in the dedicated section of the project website (http://web.philo.ulg.ac.be/x-bound/members/) and the website of the Turin Papyrus Collection (https://collezionepapiri.museoegizio.it/en-GB/section/Papyrus-Collection/Our-projects/Research-projects/).
3.2. Ongoing work
During the first year of the project, the team members have focused on three central tasks: the restoration, digitisation, and recording of fragments of papyrus in TPOP (§3.2.1.), the hieroglyphic transcription and identification of contents of the said papyri (§3.2.2.), and the design and initial implementation of a virtual light table (§3.2.3.).
3.2.1. Fragments: restoration and recording
The fragments are currently stored in cardboard folders that are numbered consecutively as CP1, CP2, etc. (CP = "Cartelline Papiri"). While processing the material, CP numbers are used as inventory numbers for the fragments that they contain: the undocumented fragments do not receive new inventory numbers, but sub-numbers based on the CP-numbers, e.g., CP058/001 or CP058/012. This allows the curatorial staff to keep track of the folder they originally come from. Before removing the fragments from a folder, the original situation is photographically documented.
The vast majority of papyrus fragments need to be cleaned, unfolded, straightened, and anchored with correctly aligned fibres in order to improve (or simply allow) legibility, and to produce pictures of high quality that can be worked on in TPOP. The papyrus fragments are being carefully conserved and consolidated9 by Livio Nappo in accordance with the preventive strategies outlined in the Advanced Papyrological Information System Guidelines for Conservation of Papyrus.45 Their ancient appearance is conserved, using reversible methods. The front and back (recto and verso) of each papyrus fragment are scanned at a 1:1 scale along with a colour separation guide. The pictures meet the standards required for subsequent processing in the TPOP (400 dpi, TIFF) and for the VLT (1200 dpi, TIFF). Following their consolidation, the fragments are mounted between 2 mm-thick glass plates labelled with the CP sub-number.
To date, approximately 304 entries of larger Ramesside manuscripts with inventory numbers have been recorded in the TPOP, along with more than 1200 out of 1500 restored CP fragments. The number of consolidated, restored and documented fragments is constantly growing. They will be visible at first only to project members and collaborators, but will be openly accessible online in TPOP from 2023 onward.
3.2.2. Identification of contents and hieroglyphic transcriptions
Thanks to the online availability of fragments from the CP folders, the identification of the content and the hieroglyphic transcription of the hieratic texts began in April 2019. For pragmatic reasons, we divided the material according to the nature of the texts: Kathrin Gabler and Matthias Müller (Basel) are dealing with the administrative texts, Renaud Pietri, Stéphane Polis, and Nathalie Sojic (Liège) with the literary, magical and religious texts. After entries for individual fragments have been created in the TPOP, data about the witnesses (keywords, transcription, date, philological comments, etc.) and their materiality (handwriting, ink, etc.) are added. So far, more than a thousand fragments have been thus processed.

This preliminary work has revealed joins between individual fragments (e.g., Fig. 4), but also looser connections between smaller fragments and larger fragmentary papyri (e.g., Fig. 5).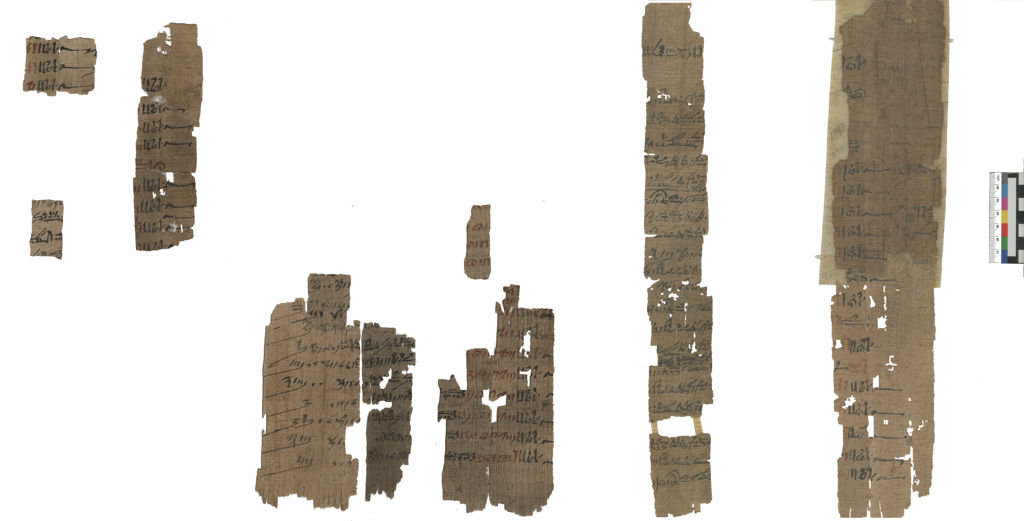 The fragments shown in Fig. 5 belong to a document recording fish deliveries. P. Turin Cat. 1933 (far right) and Provv. 6259 (to its left) are preserved for the complete height of the papyrus. However, the distribution of the text and the pattern of the fibres indicate that they stem from different columns. The CP fragments from two different folders (left part of the image) are the remains of at least two additional columns, as shown by the distribution of texts on the other side10 of the papyrus as well as the sequence of dates. Based on the fact that P. Turin Cat. 1933 shows traces of line endings at its right edge, we may reconstruct at least five columns of text. Furthermore, on the basis of the names of the fishermen and the change from a regnal year 1 to a year 2 in the first month of Akhet (on P. Turin Cat. 1933), we can assign this document to the reign of Ramesses IX. This example illustrates nicely the potentialities of the Turin collection in terms of reconstruction of larger documents.
Besides working on fragments, the post-doctoral scholars are also encoding data about larger papyri, partly drawing on existing resources such the Ramses Online corpus (http://ramses.ulg.ac.be/) and Kathrin Gabler's personal database, in order to add to the corpus of texts that could be used to train the learning algorithms (§3.2.3.).
3.2.3. The virtual light table and the learning algorithms
Over the past months, some first steps towards the implementation of the virtual light table (VLT) were made. The VLT is being designed around a server-client architecture, using the open-source framework Electron.46 It provides all the packages needed to run the application in different operating systems, such as Windows or Linux. The user can load existing reconstructions or browse, filter, and select fragments from the TPOP database (or other uploaded data sources), and add them to the canvas (making sure that the loaded images are at the same scale). The user can then move, rotate, and flip the objects to reconstruct larger documents. Finally, the results can be saved and distributed to other scholars, or exported for publication. The intermediate status of the user interface can be seen in Fig. 6.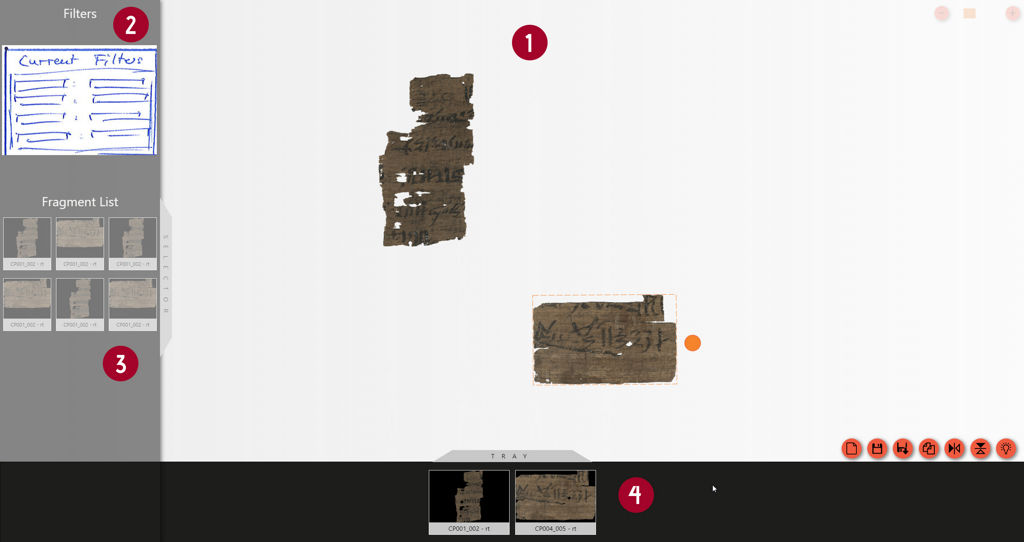 Automatic classification and matching of fragments, relying on modern machine-learning techniques (cf. WP2 in §2.4.2.), will eventually be implemented in the VLT framework. In this particular field of computer science, algorithms often try to learn from annotated structured data in order to infer classification rules and patterns. Subsequently, they make predictions about new, yet unseen data based on the rules they have learned before. The classification and reconstruction of papyri is a complex and challenging task in multiple ways: the material is very fragmented; the papyrus has a texture of its own, which interferes with its decoration and writing; the handwriting is often challenging to read; the script includes a high number of individual signs; etc. One of the most challenging issues is possibly the relative smallness of the set of training data, since machine learning processes usually process thousands of training images.11
The very first step in the process is the segmentation of papyrus images, i.e., separating the fragments from the background and other objects within the image. In image segmentation – a special case of object detection – a classifier calculates object-class probabilities not just for whole images, but for each pixel within an image. These probabilities indicate to which class a pixel belongs – e.g., papyrus or background. The result is a binary mask (white: papyrus; black: background) which can be used to create an accurate cutout of the papyrus fragment. Fig. 7 shows the original image, the binary mask, and the cutout, obtained using an artificial neural network with a Unet architecture originally developed to segment cells in biomedical images.47 These results will be further improved and serve as a basis for the next steps in analysing and classifying fragments.

3.3. Dissemination
In order to ensure the visibility of the project, we set up a web page for the project (http://crossing-boundaries.uliege.be).48 In addition to basic information on the project (team, background, research questions, sub-projects), this website summarises past, current and planned activities49 (presentations of the project, lectures, publications, and meetings), and the "News" page provides information about current developments (e.g., job opportunities, new tools, etc.). During 2019, we presented "Crossing Boundaries" at several international venues and the first results were discussed in three workshops (details available on the web page).
4. Impact
The project "Crossing Boundaries" is expected to have an impact on three main levels. First, from a cultural heritage point of view, it will lead to the restoration and reconstruction of a sizable quantity of ancient Egyptian papyri from fragments held in the Turin collection. These papyri will be available online for study by the end of the project, a significant step towards open access to ancient Egyptian data. Second, from the point of view of digital humanities, a dedicated interface coupled with learning algorithms (the VLT) will be developed to piece together hundreds of fragments of papyri. This solution could be applied to many other similar collections and will be distributed under an open-source license. Finally, from an Egyptological perspective, significant new insights into Egyptian scribal culture will be gained through the project, showing how writing in ancient Egypt was a deeply social and contextualised practice where mixed categories of knowledge (administrative, legal, historical, religious, or literary) could be instantiated in a single document and mastered by individual scribes.
Bibliography
Baud, M., "La représentation de l'espace en Égypte ancienne : cartographie d'un itinéraire d'expédition", BIFAO 90 (1990), pp. 51–63.
van den Berg, H. and K. Donker van Heel, "A Scribe's Cache from the Valley of Queens? The Palaeography of Documents from Deir el-Medina: Some Remarks", in R.J. Demarée and A. Egberts (eds.), Deir el-Medina in the Third Millennium AD: A Tribute to Jac. J. Janssen, Leiden 2000, pp. 9–49.
Bickel, S. and B. Mathieu, "L'écrivain Amennakht et son Enseignement", BIFAO 93 (1993), pp. 31–51.
Černý, J., Catalogue des ostraca hiératiques non littéraires de Deir el Médineh. [Tome I] (nos 1 à 113) (DFIFAO 3), Cairo 1935.
Černý, J., The Valley of the Kings. Fragments d'un manuscrit inachevé (BdE 71), Cairo 1973.
Černý, J., A Community of Workmen at Thebes in the Ramesside Period (BdE 50), Cairo 20012.
Claude, M. and M. Frère, "Les ostraca IFAO OL 3171a-g + OL 3162a-b. Le « brouillon » d'une lettre au roi relative au don d'une statue royale par le scribe de la Tombe Amennakhte (v) et textes divers", in Fl. Albert and A. Gasse (eds.), Études de documents hiératiques inédits, Cairo in prep.
Davies, B. G., Who's Who at Deir el-Medina: A Prosopographic Study of the Royal Workmen's Community (EU 13), Leiden 1999.
Davies, B. G., Life Within the Five Walls: A Handbook to Deir el-Medina, Wallasey 2018.
Del Vesco, P. and F. Poole, "Deir el-Medina in the Egyptian Museum of Turin. An Overview, and the Way Forward", in: A. Dorn and S. Polis (eds.), Out of the Box. Selected Papers from the Conference "Deir el-Medina and the Theban Necropolis in Contact", Liège, 27–29 October 2014, Liège (AegLeod 11), Liège 2018, pp. 97–130.
Demarée, R.J., "Letters and Archives from the New Kingdom Necropolis at Thebes", in: L. Pantalacci (ed.), La lettre d'archive: communication administrative et personnelle dans l'antiquité proche-orientale et égyptienne; actes du colloque de l'Université de Lyon 2, 9–10 juillet 2004, Cairo 2008, pp. 43–52.
Demarée, R.J., "New Information on the Mining Expedition to the Wadi Hammamat in Year 3 of Ramesses IV", in : N. Favry, C. Ragazzoli, C. Somaglino and P. Tallet (eds.), Du Sinaï au Soudan: itinéraires d'une Égyptologue. Mélanges offerts au Professeur Dominique Valbelle (Orient & Méditerranée 23), Paris 2017, pp. 101–06.
Demarée, R.J., A. Dorn, and S. Polis, "Les listes de maisonnées de Deir el-Médineh (« Stato civile »). Nouveaux fragments de l'IFAO et localisation de l'archive d'une lignée de scribes", BIFAO 120 (2020), in press.
Demarée, R.J. and D. Valbelle, Les registres de recensement du village de Deir el-Médineh (le « Stato civile »), Leuven 2011.
Demichelis, S., "Ricomporre frammenti. Lavori in corso tra i papiri del Museo Egizio di Torino", in: E.M. Ciampini and S. Demichelis (eds.), Dal Po al Nilo: Studi di filologia ed epigrafia egizia, Torino 2016, pp. 3–44.
Donker van Heel, K. and B.J.J. Haring, Writing in a Workmen's Village: Scribal Practice in Ramesside Deir el-Medina (EU 16), Leiden 2003.
Dorn, A., Arbeiterhütten im Tal der Könige: Ein Beitrag zur altägyptischen Sozialgeschichte aufgrund von neuem Quellenmaterial aus der Mitte der 20. Dynastie (ca. 1150 v. Chr.) (AH 23), Basel 2011.
Dorn, A. and S. Polis, "Nouveaux textes littéraires du scribe Amennakhte (et autres ostraca relatifs au scribe de la Tombe)", BIFAO 116 (2016), pp. 57–96.
Dorn, A. and S. Polis, The Turin Papyrus Map (in prep.).
Eyre, C., "On the Inefficiency of Bureaucracy", in: P. Piacentini and C. Orsenigo (eds.), Egyptian Archives: Proceedings of the First Session of the International Congress "Egyptian Archives / Egyptological Archives", Milano, September 9–10, 2008, Milano 2009, pp. 15–30.
Eyre, C., The Use of Documents in Pharaonic Egypt (Oxford Studies in Ancient Documents), Oxford 2013.
Gabler, K., "Methods of Identification Among the Deir el-Medina Workmen and Their Service Personnel: The Use of Names, Titles, Patronyms and Identity Marks in Administrative Texts from Deir el-Medina", in: B.J.J. Haring, K.V.J. van der Moezel and D.M. Soliman (eds.), Proceedings of the Conference "Decoding Signs of Identity", December 2013, Leiden (EU 32), Leiden and Leuven 2018, pp. 191–218.
Gabler, K., Who's Who Around Deir el-Medina. Untersuchungen zur Organisation, Prosopographie und Entwicklung des Versorgungspersonals für die Arbeitersiedlung und das Tal der Könige (EU 31), Leiden and Leuven 2018.
Gabler, K., and M. Müller, 'A Vizier's (Maybe not so) New Pieces of Furniture in the Renaissance Era: The Drawings and the Texts of P. Turin Cat. 2034 in Context', in K. Gabler, R. Gautschy, L. Bohnenkämper, H. Jenni, C. Reymond, R. Zillhardt, A. Loprieno-Gnirs, H.-H. Münch (eds.), Text-Bild-Objekte im archäologischen Kontext. Festschrift für Susanne Bickel (LingAeg StudMon 22), Hamburg 2020, pp. 117–50.
Gardiner, A.H., Late-Egyptian Miscellanies (BAe 7), Brussels 1937.
Goelet Jr., O., "Writing Ramesside Hieratic: What the Late Egyptian Miscellanies Tell Us About Scribal Education", in: S.H. D'Auria (ed.), Servant of Mut: Studies in Honor of Richard A. Fazzini (PdÄ 28), Leiden and Boston 2008, pp. 102–10.
Goyon, G., "Le papyrus de Turin dit «des Mines d'Or» et le Wadi Hammamat", ASAE 49 (1949), pp. 337–92.
Hagen, F., "Literature, Transmission, and the Late Egyptian Miscellanies", in: Dann, R.J. (ed.), Current Research in Egyptology 2004: Proceedings of the Fifth Annual Symposium Which Took Place at the University of Durham January 2004, Oxford 2006, pp. 84–99.
Hagen, F. and D. Soliman, "Archives in Ancient Egypt, 2500–1000 BCE", in: A. Bausi, C. Brockmann, M. Friedrich and S. Kienitz (eds.), Manuscripts and Archives: Comparative Views on Record-Keeping (SMC 11), Berlin 2018, pp. 71–170.
Harrell, J.A. and V.M. Brown, "The Oldest Surviving Topographical Map from Ancient Egypt: Turin Papyri 1879, 1899 and 1969", JARCE 29 (1992), pp. 81–105.
Haring, B.J.J., "Material Matters: Documentary Papyri and Ostraca in Late Ramesside Letters", in: F.A.J. Hoogendijk and S. van Gompel (eds.), The Materiality of Texts from Ancient Egypt: New Approaches to the Study of Textual Material from the Early Pharaonic to the Late Antique Period, Leiden and Boston 2018, pp. 43–51.
Haring, B.J.J., "Late Twentieth Dynasty Ostraca and the End of the Necropolis Workmen's Settlement at Deir el-Medina", in: C. Greco, F. Poole, S. Töpfer and P. del Vesco (eds.), Proceedings of the Workshop "Deir el-Medina Through the Kaleidoskop", forthcoming.
Hovestreydt, W., "A Letter to the King Relating to the Foundation of a Statue (P. Turin 1879 vso.)", LingAeg 5 (1997), pp. 107–21.
Janssen, J.J., "On Style in Egyptian Handwriting", JEA 73 (1987), pp. 161–67.
Janssen, J.J., "Literacy and Letters at Deir el-Medîna", in: R.J. Demarée and A. Egberts (eds.), Village Voices: Proceedings of the Symposium "Texts from Deir el-Medîna and Their Interpretation", Leiden, May 31-June 1, 1991, Leiden 1992, pp. 81–94.
Janssen, J.J., "An Exceptional Event at Deir el-Medina (P. Turin 1879 verso)", JARCE 31 (1994), pp. 91–97.
Lau-Lamb, L., Advanced Papyrological Information System Guidelines for Conservation of Papyrus, University of Michigan 2010, https://www.lib.umich.edu/files/collections/papyrus/APISconservation_fig.pdf.
Loprieno, A., "Towards a Detailed Perspective on Deir el-Medina", in: A. Dorn and T. Hofmann (eds.), Living and Writing in Deir el-Medine. Social-Historical Embodiment of Deir el-Medine Texts (AH 19), Basel 2006, pp. 165–70.
Mathieu, B., "La littérature égyptienne sous les Ramsès d'après les ostraca littéraires de Deir el-Médineh, in G. Andreu (ed.), Deir el-Médineh et la Vallée des Rois : la vie en Égypte au temps des pharaons du Nouvel Empire. Actes du colloque organisé par le Musée du Louvre, les 3 et 4 mai 2002, Paris 2003, pp. 117–37.
Mathieu, B., "L'influence des découvertes de Deir el-Medina sur notre connaissance de la littérature égyptienne", in H. Gaber, L. Bazin Rizzo, and Fr. Servajean (eds.), À l'oeuvre on connaît l'artisan … de Pharaon ! Un siècle de recherches françaises à Deir el-Medina (1917-2017), Milano 2017, pp. 105–09.
Massart, A., "The Egyptian Geneva Papyrus MAH 15274", MDAIK 15 (1957), pp. 172–85.
McClain, S.E., "Authorship and Attribution: Who Wrote the Twentieth Dynasty Journal of the Necropolis?", in A. Dorn and S. Polis (eds.), Outside the Box: Selected Papers from the Conference 'Deir el-Medina and the Theban Necropolis in Contact'. Liège, 27–29 October 2014, Liège 2018, pp. 333–64.
Parkinson, R.B., Reading Ancient Egyptian Poetry: Among Other Histories, Chichester, UK and Malden, MA 2009.
Parkinson, R.B., "Sailing Past Ellsinore: Interpreting the Materiality of Middle Kingdom Poetry", in: G. Moers, K. Widmaier, A. Giewekemeyer, A. Lümers and R. Ernst (eds.), Dating Egyptian Literary Texts (LingAeg SM 11), Hamburg 2013, pp. 123–37.
Pestman, P.W., "Who Were the Owners, in the 'Community of Workmen', of the Chester Beatty Papyri", in: R.J. Demarée and J.J. Janssen (eds.), Gleanings from Deir el-Medîna (EU 1), Leiden 1982, pp. 155–72.
Piquette, K. and R.D. Whitehouse, Writing as Material Practice: Substance, Surface and Medium, London 2013.
Pirrone, A., M. Beurton Aimar, N. Journet, "Papys-S-Net: A Siamese Network to Match Papyrus Fragments", in HIP 2019. Proceedings of the 5th International Workshop on Historical Document Imaging and Processing, Sydney 2019, pp. 78–83.
Pleyte, W. and F. Rossi, Papyrus de Turin, Leiden 1869–1876.
Polis, S., "Linguistic Variation in Ancient Egyptian: An Introduction to the State of the Art (with Special Attention to the Community of Deir el-Medina)", in: J. Cromwell and E. Grossman (eds.), Scribal Repertoires in Egypt from the New Kingdom to the Early Islamic Period (Oxford Studies in Ancient Documents), Oxford 2017, pp. 60–88.
Polis, S., "The Scribal Repertoire of Amennakhte Son of Ipuy: Describing Variation Across Late Egyptian Registers", in: J. Cromwell and E. Grossman (eds.), Scribal Repertoires in Egypt from the New Kingdom to the Early Islamic Period (Oxford Studies in Ancient Documents), Oxford 2017, pp. 89–126.
Polis, S. and V. Razanajao, "Ancient Egyptian Texts in Context: Towards a Conceptual Data Model (the Thot Data Model – TDM)", BICS 59/2 (2016), pp. 24–41.
Ragazzoli, C., "Weak Hands and Soft Mouths: Elements of a Scribal Identity in the New Kingdom", ZÄS 137 (2010), pp. 157–70.
Ragazzoli, C., "Lire en extraits : les manuscrits de miscellanées en Égypte ancienne, ou la lecture comme pratique créative", in : S. Morlet (ed.), Lire en extraits : histoire de la lecture et de la production des textes, de l'Antiquité à la fin du Moyen Âge, Paris 2015, pp. 11–28.
Ragazzoli, C., "Beyond Authors and Copyists: The Role of Variation in Ancient Egyptian and New Kingdom Literary Production", in: T. Gillen (ed.), (Re)productive Traditions in Ancient Egypt: Proceedings of the Conference Held at the University of Liège, 6th-8th February 2013, (AegLeod 10), Liège 2017, pp. 95–126.
Ragazzoli, C., Scribes. Les artisants du texte en Égypte ancienne (1550-1000), Paris 2019.
Reggiani, N., Digital Papyrology I. Methods, Tools and Trends, Berlin 2017.
Roccati, A., "Scavi nel Museo Egizio di Torino, VII: tra i papiri torinesi", OrAnt 14 (1975), pp. 243–53.
Roccati, A., "Un nuovo rotolo magico diviso tra le raccolte di Ginevra e Torino", BSEG 7 (1982), pp. 91–94.
Roccati, A., Magica Taurinensia: il grande papiro magico di Torino e i suoi duplicati (AnOr 56), Roma 2011.
Ronneberger, O., Ph. Fischer and Th. Brox, "U-Net: Convolutional Networks for Biomedical Image Segmentation", MICCAI (2015), pp. 234–41, https://arxiv.org/abs/1505.04597.
Štubňová, S., The Scribe of the Tomb Kenherkhepeshef in 19th Dynasty Deir el-Medina: The Life and Personality of an Individual and His Place in Society Based on the Evaluation of Textual, Iconographical and Archaeological Sources (unpublished MA thesis, Leiden University), Leiden 2013.
Štubňová, S., "A Prosopographic Analysis of the Known Kenherkhepshefs at Deir el-Medina and Some Observations on the Scribe Kenherkhepshef", GM 248 (2016), pp. 123–48.
Sweeney, D., "Friendship and Frustration: A Study in Papyri Deir el-Medina IV-VI", JEA 84 (1998), pp. 101–22.
Töpfer, S., "The Turin Papyrus Online Platform (TPOP): An Introduction", Rivista del Museo Egizio 2 (2018), pp. 1–11.
Unter, S., "Transforming Fragments into Documents. Hieratic Papyri and the Use of Machine Learning", in: A. Verbovsek, K. Gabler, and S. Bickel (eds.), Formen kultureller Dynamik: Impuls – Progession – Transformation. Beiträge des 10. Basler und Berliner Arbeitskreises Junge Aegyptologie (BAJA 10), 29.11.–01.12.2019, GOF IV, Wiesbaden, submitted.
Valbelle, D., "Les ouvriers de la tombe" : Deir el-Médineh à l'époque ramesside (BdE 96), Cairo 1985.